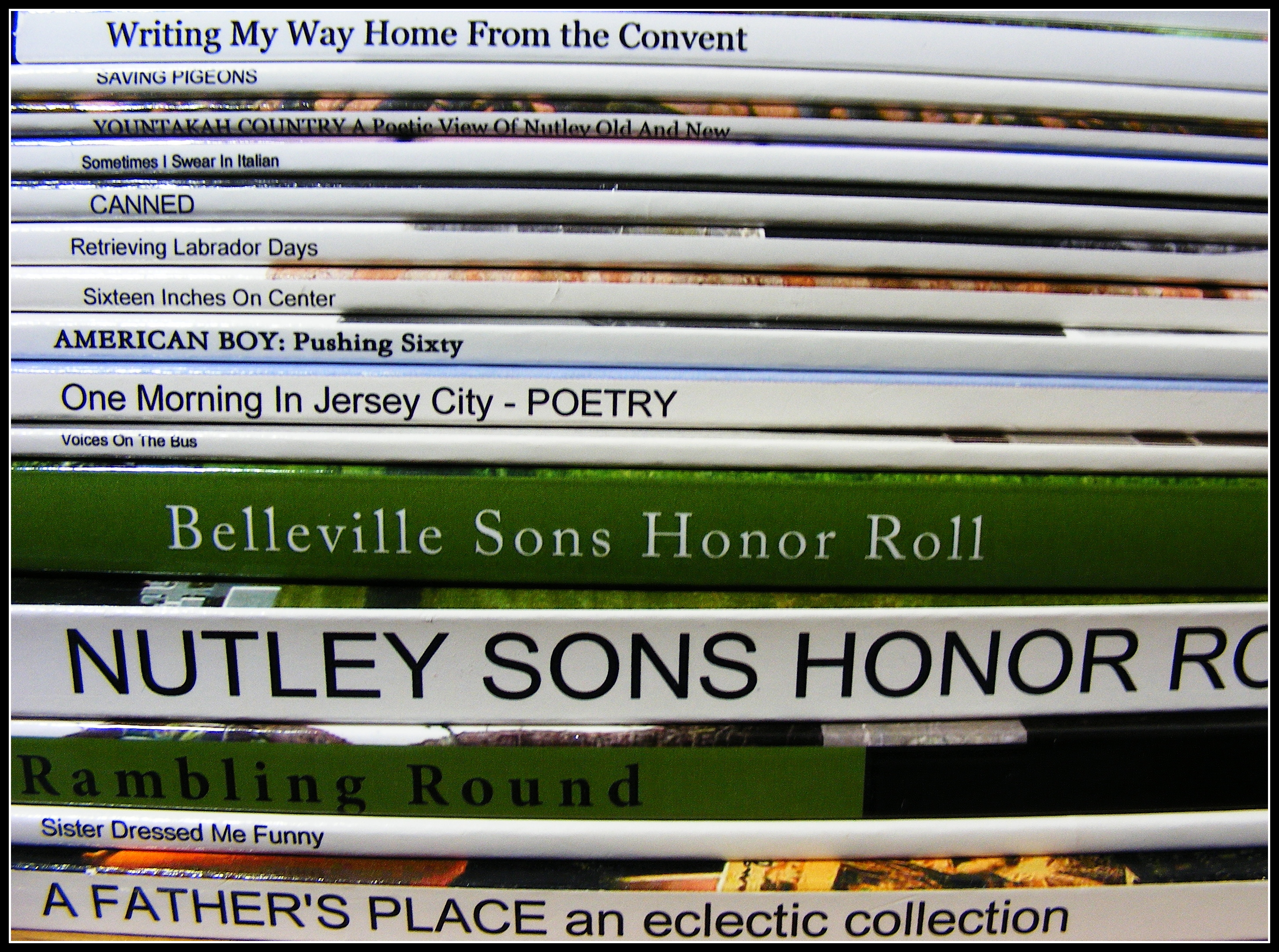 Nutley Snapshots - In Plain View
Nutley Notables: The men and women who made a memorable impact on our hometown, Nutley, New Jersey (2014)
This Seat Taken? Notes of a Hapless Commuter (2013)
Greetings From Belleville, New Jersey, Collected writings (2012)
Jersey City Snapshots (2012)
Martha Stewart Doesn't Live Here Anymore, and other essays (2011)
Belleville Sons Honor Roll - Remembering the Men Who Paid for Our Freedom (2002-2012)
Sometimes I Swear In Italian (2011)
RETRIEVING LABRADOR DAYS dog tales in prose and verse (2010)
SIXTEEN INCHES ON CENTER (2010)
CANNED - Booted, bumped, down-sized, fired, forced out, hated, hired, jobless, laid off, let go, out of work, out-sourced, pink-slipped, terminated, sacked, unemployed (2010)
YOUNTAKAH COUNTRY A Poetic View of Nutley, Old and New (2010)
Belleville and Nutley in the Civil War - A brief History (2010)
AMERICAN BOY: Pushing Sixty (2009)
Nutley Sons Honor Roll - Remembering the Men Who Paid for Our Freedom (2002-2009)
VOICES ON THE BUS (2008)
ONE MORNING IN JERSEY CITY (2008)
Rambling Round - Inside and Outside at the Same Time - Life and Growing Up In North Jersey (2002)
Sister Dressed Me Funny (1996)
A Father's Place, An Eclectic Collection (1991)
---
1971-1972
Odds and ends in The Belleville Times/News
---
1974
11/14 Rock Review - Poco Concert Disconcerting, (Belleville Times/News)
---
1975
1/30 Record Review - A new Dylan: A new album (BTN)
2/20 Rock Concert Review - Sha Na Na delivers the goods (BTN)
3/6 Rock Concert Review - David Bromberg; playing, feeling (BTN)
3/20 Record Review: John Lennon's latest lacking (BTN/IP/GRP)
4/3 Concert Review: Virgil Fox's 'Heavy' Bach/Bach by Fox (BTN IP/GRP)
4/24 In Father-Son Reading Poet Ginsberg: 'Keep on breathing'
Anthony Hears the Ginsbergs (BTN IP/GRP)
5/22 Let's Get Away For A While (IP/GRP)
5/22 "Blood on the Tracks" For Bob Dylan fans (IP/GRP)
5/29 "Dumptruck on gravel," John Prine reviewed (IP/GRP)
6/12 Dick Gregory's Bible (IP/GRP)
6/12 Album Review: John Prine's Riddles Rhyme (BTN)
6/19 "Comedy Collage" Excites (IP/GRP)
7/17 Cain & Abel (lost by-line) w/photo (IP/GRP)
7/24 Rock Review: Bump the Night Away w/photo (BTN)
8/7 Album Review: Ex-Byrd band: Lots like nothing (BTN)
8/21 'Raceway Park' (BTN)
9/4 Feeling Like Quasi Modo Again (IP/GRP)
9/4 "The Basement Tapes" Bob Dylan and the Band (IP/GRP)
9/11 Album Review: 'The Basement Tapes' (BTN)
9/18 Rock Concert Review: Edgar Winter Group pounds it out (BTN)
9/25 Loud, Louder, Loudest - Edgar Winter Group (IP/GRP)
10/75 Show Review: Nothing is sacred (BTN)
10/9 "National Lampoon Show" A review (IP/GRP)
10/16 Harry Chapin's lyrics heart of Portrait Gallery(IP/GRP)
10/30 Overwhelmed by "Labelle", (at Bloomfield College) (IP/GRP)
11/6 THE MUSIC SCENE: Labelle overwhelms; Chapin lyrical (BTN)
11/6 Paul Simon crosses bridge to Montclair (IP/GRP)
11/13 Dealing with a real pro - Jean Shepherd talks (IP/GRP)
11/20 CONCERT REVIEW: Paul Simon: a 'delightful' performer (BTN)
11/20 Lori Anne, a poem, (IP/GRP)
11/26 ENTERTAINMENT REVIEW: 'What you don't see on the radio' (BTN)
12/11 Album Review: George Carlin is four for 14, (BTN)
12/11 'KEEN OBSERVATIONS...FROM THE GUTTER' (IP/GRP)
12/25 "An Evening with Judy" (Independent Press of Bloomfield/The Glen Ridge Paper)
12/31 CONCERT REVIEW: An evening with Judy Collins (BTN)
---
1976
Days You Knew Me poetry chapbook
1/15 Job Rock In Prose (IP SDMF)
1/22 'Crisis? What Crisis? Eared to Supertramp (IP)
1/29 ALBUM REVIEW: Rankin's 'Inside': heaven to the ears (BTN)
1/29 Kenny Rankin - INSIDE (IP)
2/12 Bob DYLAN'S DESIRE: From 'Hurricane' to Emmylou (BTN)
2/12 HERE IT IS! Anthony Reviews Bob Dylan's "Desire" (IP/GRP)
3/4 Peter Pan Superstar - A review (GRP)
4/15 ROCK REVIEW: 'Queen': give them a chance (BTN)
4/22 "A Night at the Opera" Hard Rock by Queen (IPGRP)
4/29 'Magic Show' makes splash at Montclair State (BTN)
5/6 Reviews "Live Bullet" (IP)
5/13 Doug Henning (IP)
5/20 Tubes/Bob Seger (IP/BTN)
5/27 Joe Cocker review (IP/BTN)
6/3 Talkin Bout My Generation (IP)
6/17 Louden Wainright (BTN)
6/27 Generation 2, (IP)
6/27 Louden Wainright (IP)
7/1 About My Generation (IP)
7/1 Carpenters review (IP)
7/8 Generation (IP)
7/8 Nazareth
7/8 Carpenters (IP/BTN)
7/15 The Glasses (IP)
7/15 Wednesday Night Live IP/GRP
7/22 Memories of Brookdale Soda (IP, AFP )
7/22 Everybody's Trying To Get Into The Circle (IP)
7/29 Newark is No Place (IP,SDMF)
7/29 Rod Stewart, review (IP)
8/5 Beach Boys, review (IP)
8/12 Beatles review (IP)
8/19 Joan Armatrading review
8/19 Rod Stewart/Beach Boys (IP/BTN)
9/9 C & C, Furey, Joan Armatrading, Dion IP,BTN
9/16 My Generation
9/16 One Night at the Town Pub (BTN/IP, AFP)
9/23 John Belushi review, (IP,BTN)
10/14 Let's Have A War, Ozark Mtn. (IP)
10/21 Richie Havens, Scapino, (IP)
10/28 The Rose Tattoo, review (IP) Holy Family Players
11/4 Circus review, Havens, Walker, Ozark (IP/BTN)
11/11 Franklyn Ajaye, Circus photos (IP)
11/18 Fiddler review, music poll, Black Sabbath (IP)
11/25 Jewels at Thanksgiving (IP, SDMF)
11/25 Joan Baez review (IP)
12/2 Long May You Run, (IP)
12/9 Cher, Richard Pryor, Andre Kole, (IP)
12/16 Leo Sayer, Doobies, (IP)
12/23 Last Minute Gifts
12/23 Don't Forget It's a Birthday Party (IP, SDMF)
12/30 Best Pop of 1976
---
1977
1/6 Black Sabbath/F. Ajaye/Schwartz article (BTN/GRP)
1/20 Joan Baez, Stills Young/Mainstream Jazz (BTN/IP)
1/27 John Prine: Dump Truck on gravel, album review (IP)
1/27 Best of 1976
The History of Coffee (By Mike Cleveland, Herald News)
2/3 Subject Was Roses, theater review (IP)
2/10 You Never Heard of Uncle Floyd? (IP) Floyd Vivino
2/17 West Side Story, theater review/Saturday Night Live, album review (IP)
2/27 Uncle Floyd taping & pics (IP) Floyd Vivino
3/3 Uncle Floyd/Kim Carnes, Dave Brubeck/ View From A Bridge, theater review (IP)
3/17 Uncle Floyd Welcomed (IP)
3/17 Dream City, play review - Ken Schwartz, Glen Ridge, N.J.
3/17 Zoning Board Meeting (Charms!), (a news story)
3/17 Milton Voodoo /JBN
3/24 Trivia Contest, Symph. (IP/GRP)
3/31 Oklahoma, theater review (IP)
4/7 America (IP)
4/14 George Harrison, Trivia Contest Results (IP)
4/28 Joan Armatrading, review (IP)
5/5 Lani Hall (IP)
5/12 Italian & Polish Roots (w JBN) (IP)
5/12 Pablo Cruise - album review, Stop the World - theater review (IP)
5/19 Guys & Dolls - theater review, Dr. Hyde (IP) The Meadowbrook
6/2 Disco Disappointment, live performance review (IP)
6/9 Anson Williams (IP)
6/23 Kenny Rankin, (IP)
6/23 Our Anthony Walks The First Mile, wedding picture (IP)
7/7 Nils Lofgren, Bob Seger (IP)
7/14 Letta Mbulu, Woody Guthrie (IP)
7/28 Piper, Soundtracks (IP)
7/4 Supertramp (IP)
8/11 Andy Fairweather Low (IP)
8/18 Gary Wright (IP)
8/25 Elvis Presley (with John B. Narucki) (IP)
9/1 Jesse Winchester (IP)
9/15 When You Coming Back, Red Ryder, play review (EJ)
9/22 Van Morrison (EJ)
9/29 Brothers Johnson (EJ)
10/6 Marshall Tucker (EJ)
11/3 Better than the rest - Uncle Floyd (EJ)
11/10 Joan Armatrading (EJ)
12/1 Cat Stevens (Essex Journal)
12/22 Married to a Christmas Nut (IP, AFP)
12/29 Chekhov Christmas - live theater review, Bloomfield College (IP)
12/29 Debbie Boone, Gino Vanelli, Michelle Phillips
---
1978
4/6 Alice Cooper, Essex Journal
---
1983
July - A Gift For Jesse (AFP) Bloomfield Life
10/27/83 How Many Hammers Are Enough? (AFP) Bloomfield Life
---
1984
Last of the Old Time Kiddie Shows - Herald News, Aug. 8
---
1985
April - A Hare-Raising Story (AFP) NJ Monthly
---
1986
8/26 Archetypal man of the eighties (AFP) Bloomfield Life
---
1987
8/13 I Came To Laugh (AFP) Bloomfield Life
---
1989
New Jersey Art Directors' Club - Award for copywriting.
---
1990
A Father's Place (essay)
Just Another Day On Police Beat
Hello In There
Day Trips
Plus, many, many additional news stories and editorials.
---
1991
A Father's Place, An Eclectic Collection published
---
1992
November - Ornamental Disaster (Married to a Christmas Nut), New Jersey Monthly
New Jersey Art Directors' Club - A Father's Place, Certificate of Excellence award.
---
1993
4/93 Major Improvements in size, safety & services, $700 trillion debt could mean tripled tolls
-- (NJMTA Bulletin) (a humor article for April) RR
11/93 "Perfecting a Piece of the World," book review (NJMTA Bulletin)
11/4 Who is Brother, Uncle Bim? (BP/NJ)-SDMF
11/11 Grandpa Andy bid farewell (BP/NJ-SDMF)
12/22 Lardier's Fountain on the way to school (Belleville Post/Nutley Journal)
---
1994
5/12 Belleville vs. Nutley: comparison of twins continues (BP/NJ)
10/13 Jesse James used a gun, not a pay phone (BP/NJ)
---
1995
January - Abie's Libby Valentine (NJ Federated Sportsmen)
February - Fishing Time's Coming and so are the catalogs (NJSFS/AFP)
7/20 'Baby Boomer' marooned on endless highway in cyberspace (IP/GRP/BP/NJ - RR)
8/31 School bus nine 'rules', but there were no heroes (IP/GRP/BP/NJ - SDMF)
9/21 Me cat, they mice, Cub Scouts all (IP/GRP/BP/NJ - SDMF)
---
1996
Sister Dressed Me Funny published
6/20 Named managing editor Worrall Community Newspapers, Bloomfield office
6/20 Not really heroes, editorial (IP) = Society of Professional Journalists 1996 Excellence in Journalism Award
6/27 New Editor found imprisoned in Belleville
7/3 Labrador competition heating up outdoors
7/11 What more can I expect from the sidekick?
7/18 Midnight fax from there to hear to my ear
7/25 And so we trust - for the grace of God
8/1 Tax dollars at work causes us concern
8/8 It's not where you fish, it's the bait you use
8/15 Keep remembering to call me Mr. Memory
8/22 Sister Dressed Me Funny, (SDMF)
8/22 Not a summer without visiting Sun Tan Lake
8/29 The chimney sweep saved my family's life
8/29 As school starts I forget sisters last names (SDMF)
9/5 I Remember Grandma's house in country (SDMF)
9/12 Dad and daughter have very special bond (AFP)
9/12 Childhood wonder leads to reality too soon
9/19 How I unwittingly bought the $110 light bulbs
9/26 Long ago joyrides near scary Monk's Castle
10/3 I Pushed Ginger Rogers around Las Vegas
10/3 An old Brookdale soda bottle rekindles refreshing memories (AFP)
10/10 Ever to paint lilies of the valley on ladder (AFP)
10/17 Sorry ladies, this husband is not for hire (AFP)
10/24 Remembering the Jersey kid one year later
11/7 You're from New Jersey, what area code?
11/21 Long parenting tradition has no Saturday off
11/28 Thanksgiving treasures from a simple bird (SDMF)
12/5 A test? Where are you tonight, Peggy Sue?
12/5 Ordinary folks risked all saving strangers (A Debt to Honor)
12/19 It's time to wake up and smell the egg nog (AFP)
12/27 Working for a living is very highly over-rated (AFP)
12/27 Peter Pan Superstar flashback (GRP)
---
1997
1/9 We thought we knew our cable channels
1/16 This handy dad is householdly challenged
1/23 Old Labrador knew dead wood by its bark
2/6 Watch out, Ms. Stewart, skating's contagious
3/6 Who knows how many hammers are enough (AFP)
3/13 Were dentists overcharges part of the drill?
4/24 The freshman play was more than a stage
5/1 Alas, this Yorick can suck up a bowling ball
5/8 The 25-year reunion trepidation has arrived
5/15 Cost of ethnic freedom is constant vigilance
5/22 Who are the doggies in your neighborhood?
<<5/29 Hounds howl at rambling writer's omissions (unpublished/online) >>
5/29 Holocaust survivor tells teens of tragedies (Belleville Post)
6/5 Wonder of wonders, canned soup in a jar
6/12 Everything in there was magical, top drawer
6/19 Real reasons men, women cry at weddings
6/19 School's out, summer's in
6/26 Writing the books is really the easiest part
7/3 Lawn labors lighter by more power musing
7/10 Summer peaches and gardens of tomatoes
7/17 Is there a time we'll stop missing our folks
7/24 Alas Wildcat Lake is now Catfish Pond
7/31 If you're meant to drown, you won't hang
8/7 Air raid drill memories from under the desk
8/14 Dad bought back his shoes while I napped
8/28 Boy Scouts built traditional New Jersey icon
8/21 Alas, the perfect cure for today's headache
9/4 School cafeteria crackers offered an unparalleled taste
9/11 Scenic Nutley is captured in Demmer book, book review
9/11 Martha Stewart doesn't live here - anymore
Haunting Dar Williams songs are stuck in my head
9/18 Remember the pretzel vendor on Saturday
9/25 How we find peace in the lawnmower's roar
10/2 'Yo, Donald Duck, hit the hay! X-ray! X-ray!'
10/8 My cousins scared me out of sleeping over
10/16 My Great-grandfather was a pumking
10/23 It doesn't matter where or when you laugh
10/30 No parallel parking in the parallel universe
12/4 Breaker one-nine, it's time to surf the Web
12/97 Remember the children Christmas morning
---
1998
October: After The Titanic
11/11 My Great-grandfather was a 'Pumking'
12/8 Family Histories Preserved In Old Photos
12/22 The Road To Hell Is Paved With Parkway Tokens
---
---
Days You Knew Me

poetry chapbook. (1976)

Summer Peaches And Tomato Gardens chapbook (1998)

Yellow Cracker School Days chapbook (1998)

Householdly Challenged chapbook (1998)

Retrieving Labrador Days chapbook (1998)
---
Abbreviations:
IP/GRP - Independent Press/Glen Ridge Paper
BP/NJ - Belleville Post/Nutley Journal
BTN - Belleville Times-News
EJ - Essex Journal
Belleville!
Also, the following designations indicate the essay was later reprinted in either collection:
SDMF - Sister Dressed Me Funny
AFP - A Father's Place, An Eclectic Collection
---
Additional Notes
:
In 1977, many rock review articles were co-written with John B. Narucki.
In 1/76, The History of Coffee by Mike Cleveland of the Herald News was written based on a letter I had sent him.
The 11/75 review of Jean Shepherd was co-written with Dawn Vincenti.
Additional Author's Notes
Most of the Rambling Round columns written from June 1996
to December 1997 were collected into the book
RAMBLING ROUND Inside and Outside at the Same Time.
Most of the Transit Blog posts are collected
in This Seat Taken? Notes of a Hapless Commuter.
---
There are more articles and stories than listed here, particularly while editor of Belleville Times in 1970s, 1990 and managing editor at Worrall's four Bloomfield office newspapers in 1996-1998.
---
---
NOTE: This is really long, thanks for reading all the way to the end?