A quick search of books about World War II on Amazon.com lists 11,982 titles.
Forgotten Heroes of World War II - Personal Accounts of Ordinary Soldiers by Thomas E. Simmons (256 pgs) is one book about the war that you should not miss and you won't forget.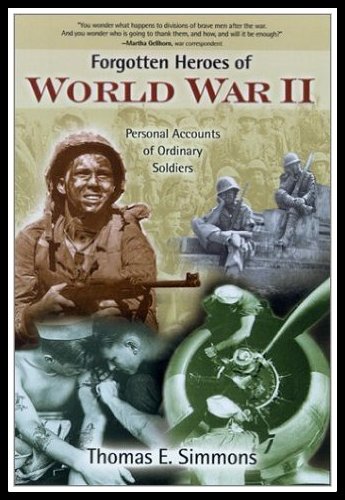 As someone who never served in the military - or in war, these personal accounts by 'ordinary soldiers' many times make the ordinary seem surreal.
In fact, some of these tales almost seem unbelievable, except they are not un-ordinary. These fellows lived long enough to tell about it.
Simmons captures and retells the mundane routines and the edge-of-your-seat dramatic tension that makes you stop reading, look up & say to yourself, 'I'm glad I'm only reading this.'
Another thing that gives pause, and I'll get this over early, is that some of the scenic description allegedly in the voice of these ordinary soldiers generally belies their soldierly status.
Sometimes these scenes trigger your willing suspension of disbelief and you simply credit Simmons with craftily bringing the ordinary soldier into the big picture with a well-told scene-painting or technical description, or by weaving facts of the outside war into the events at hand.
Most times these digressions into the you-are-there feel of the story don't get in the way. Other times they are so real you find yourself reading faster to leave the scene and remind yourself it's just a book.
These soldiers' tales - and all the services are covered - easily absorb the reader into the action. You sense a closeness with the teller of the tale, as if perhaps he's telling things he hasn't told in a long time.
Or it goes without saying that all the details here do not yet tell the full story of being there to smell the smells, as they say.
But it's close. And real.
Each story is more engrossing than the last, pulling you in deeper and deeper to these nearly lost accounts of 'ordinary soldiers'
Bruce Creekmur at Pearl Harbor - tapping to locate survivors of USS Oklahoma, a ''turned turtle.'' He first cut a small hole into the hull and pumped in fresh air ... hauled eight men out.
A detail of the ''rainbow colored tears'' makes these men stand out, but it could be the editor's interpretation.
Edward Anderson, who ended up in the Navy as part of an April Fools' joke, commands Tugboat LT-430, the first of several that are shot out from under him in the South Pacific.
Anderson's mission is simple: to rescue shipwrecked seamen and downed Allied pilots, and put coast-watchers on ''certain islands.'' He learned by
doing whether or not the islands were occupied.
You have Oswald Smith the merchant marine stranded in one of Stalin's labor camps somewhere above the Arctic Circle. And his perilous return across 900 miles of hostile territory.
The tales are well told of Fred Koval the B-17 pilot, Fred Moyce the D-Day artillery spotter and pilot Mike Kelly towing gliders on D-Day.
Harry Bell and Knox White live through different sagas at the Battle of the Bulge. Bell survives a Nazi prison camp at Bad Orb returning to humanity at 90 pounds. White's recon unit helped defend Saint-Vith which delayed the Germans' attack on Bastogne.
Bomber pilot Amos Pollard's shot up plane survives to fight another day
saved by the timely appearance of the RedTails - Tuskeegee Airmen, ''We gonna take care of Fritz.'' And they do.
Ensign Owen Palmer is aboard the ship that rescues pilot Geo. Bush; then refuels in a typhoon. Even big ships are susceptible to the weather, as 800 perish in the storm.
Marines ''Dee'' Hamilton and Joseph Urby fight their way across the South Pacific islands.
And for effect, and a different view of the fighting, Simmons includes excerpts from the diary of a Jap medic Tarao Kawaguch who picks up a gun for defense.
Simmons brings you close up to this war. Maybe closer than you've ever wanted to be, but you see things and remember incidences from Forgotten
Heroes, long after you've put down the book.
---
Copyright © 2003-2016 by Anthony Buccino, All Rights Reserved