---
Christmas Classics:
Her classroom has a Christmas scene
painting nine feet wide and four feet tall
that one of 'her kids' made.
Still Married to a Christmas Nut
Thirty-two years ago it took an hour to set up our Christmas tree
with two boxes of borrowed ornaments and some tinsel.
Now, it takes two full days to spruce up our house for the holiday.
The proud family would have withstood the hunger,
and the children would have foregone the holiday
morning's wild unwrapping party,
all as long as they were together.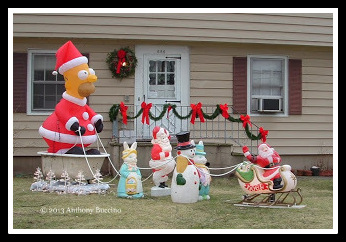 ---
---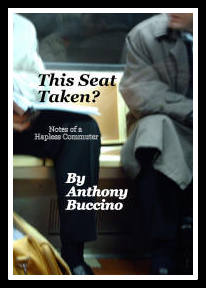 This Seat Taken?
Notes of a Hapless Commuter
By Anthony Buccino
If you ever commuted to work, you'll enjoy reading Anthony Buccino's latest collection "This Seat Taken? Notes of a Hapless Commuter" about the joys and follies of getting to and from work in the city using metropolitan public transit.
New and collected writings
---
---
Shop Amazon - Holiday Gift Cards with a Free Gift Box and Free One-Day Shipping
---
NEW & RECENT:
My 14-Year-Old Self Came in the Mail. Should I Open?
A large brown envelope arrived recently. It contained copies of letters I wrote to
Mary when we were 14. Shall I leave it sealed and keep safe whatever memories
of those times that still swirl and swell in my grey matter?
This whole beach thing, changing, badges, outside shower,
was alien to me. I might as well have been from Wisconsin
for all the time this Jersey boy had spent down the shore.
Time to Change the Air Conditioner
The new window units are more efficient and lighter
than those we started with 40 years ago,
they still seemed to get heavier each year.
How many times have riders looked north from NJ Transit
and PATH trains and guessed at the real name of Fraternity Rock
rising from the ancient forest turned dump turned swamp.
Benny Miller from Cucamonga tried to sell Mom a new vacuum.
"Would you let your eight-year-old son pick up a handful of dirt
outside and eat it?
There are always people milling at Port Authority bus terminal.
They sit around, read newspapers, have coffee or wait
to buy a winning lottery ticket out of this rat race.
Auto Recall of Long-Gone Jalopies
The first car I bought was a 1963 VW Bug in 1972.
I wanted that old gray car so bad it didn't matter to me
that I couldn't handle a clutch or drive a shift.
Remembering a Summer, and the Girl Who Had My Heart
Perhaps our story will become a Lifetime Channel movie.
We met, lost contact, lived our lives and then one day look up a the random table
at the nursing home and see each other again.
Saving Washers: Stored in My Memory Bank
Dad told me washers weren't money and I couldn't spend them on candy or toys.
When we filled the pink pig bank, we brought them to the big boring stone bank.
Dad and Mom said when I was 16 I could take the money out.
Reunion: Catharsis, Closure or Both
I never had much love for school. I was ready to drop out
in second grade but somehow hung in
so I might enjoy going to high school class reunions.
---
---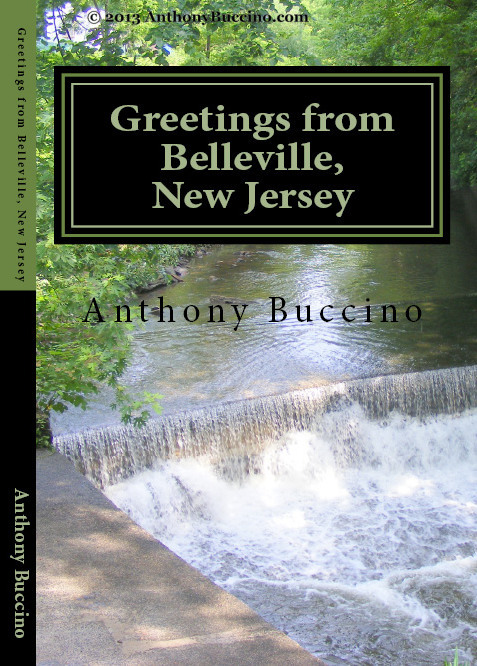 Greetings From Belleville,N.J.
Belleville native Anthony Buccino has collected his favorite and your most-requested writings about life and growing up in Belleville, New Jersey.
Greetings From Belleville New Jersey, Collected writings is Buccino's fourth collection of essays but the first wholly dedicated to his writings about Belleville.
More than forty essays and reflections on everything from junior high school bullies to selling pretzels for Ed Strat (Belle Maid) at Belleville High School football games at Municipal Stadium.
This collection includes the NJ-SPJ Excellence in Journalism award-winning pieces Don the TV man, Penny Candy from the Corner Store and Gary's English Racer vs. My Schwinn.
Buccino's first collection of Belleville-only writings
Amazon.com and Kindle
Don't have a Kindle eReader, download a free reader to your PC or smart phone.,
---
More Classics:
Two boys can always get along, but a third
usually means something's going to get out of kilter.
And so it was that day in the first half of the block on Carpenter Street.
Band Parents Give Up Saturdays
It's the parents who are sitting on heavy blankets, wearing thermal underwear,
thermal socks, thermal neckwear, thermal hats and
special gloves with places for shake-activated charcoal hand-warmers
Jean Shepherd: What You Don't See On The Radio
Shepherd dazzled the audience with a proficient
demonstration of marching band routines
saying, "See, that's the stuff you don't see on the radio!
---
---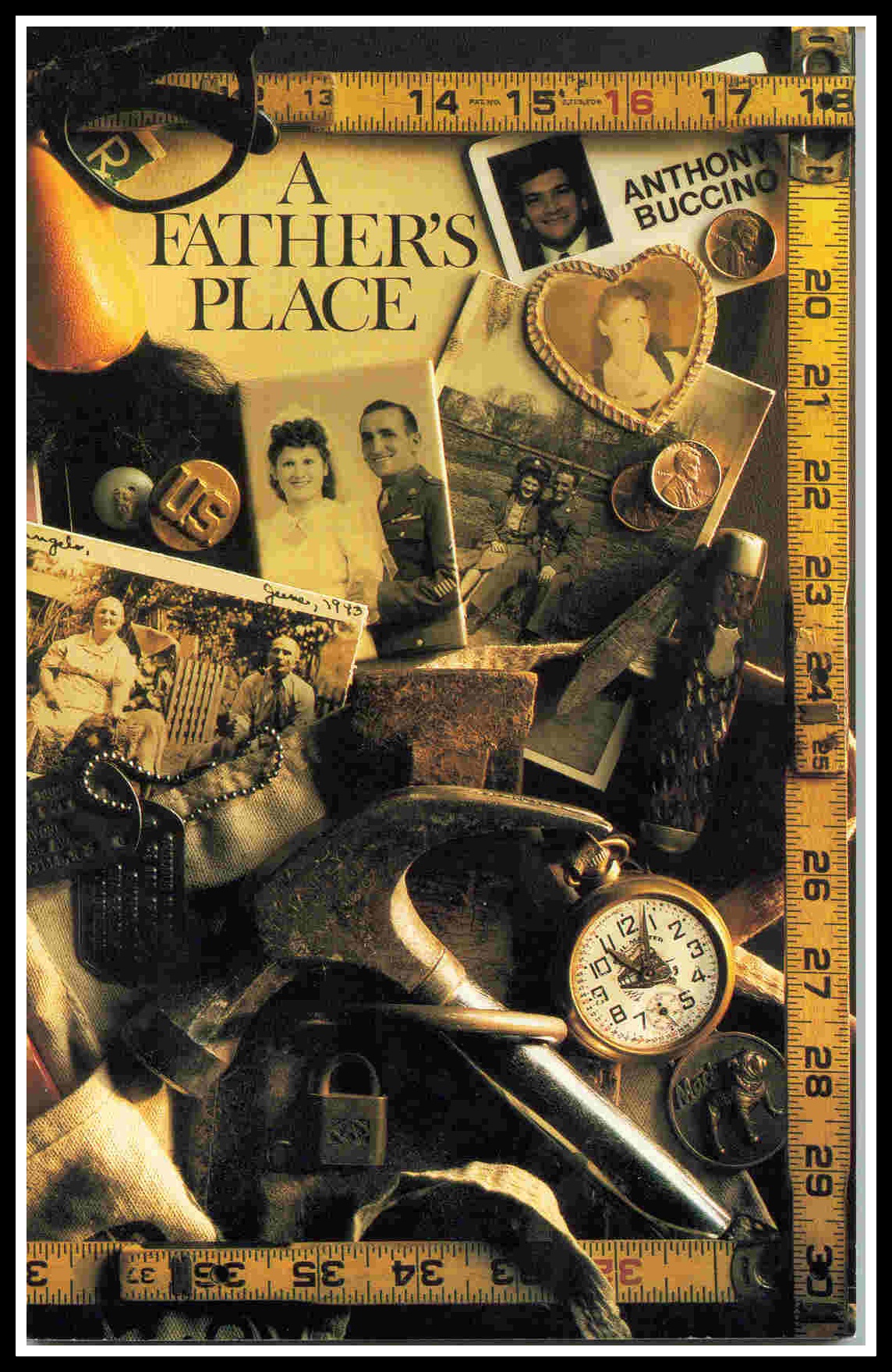 A Father's Place - An Eclectic Collection
Belleville and Nutley in the Civil War
Belleville Sons Honor Roll - Remembering the Men Who Paid for Our Freedom
Greetings From Belleville, New Jersey collected writings
Martha Stewart Doesn't Live Here Anymore and other essays
Nutley Sons Honor Roll - Remembering the Men Who Paid for Our Freedom
Rambling Round - Inside and Outside at the Same Time
Retrieving Labrador Days dog tales in prose and verse
Canned, Booted, Bumped, Downsized
Collect 'em all!
---
New Jersey author Anthony Buccino published more than fifteen books including four essay collections, three military history books and seven full-length poetry collections. He has been called '"New Jersey's Garrison Keillor" or something to that effect.' His stories of the 1960s earned a SPJ-NJ Excellence in Journalism award. His transit blog on NJ.com earned a SPJ-NJ Excellence in Journalism award. His poem At The Vet has been nominated for the Pushcart Prize.