Nutley, New Jersey, author Anthony Buccino published eighteen books including four essay collections, three military history books and seven full-length poetry collections. He has been called ' "New Jersey's 'Garrison Keillor" or something to that effect.' His poem At The Vet has been nominated for the Pushcart Prize.
Buccino's blog posts won two 2014 Society of Professional Journalists Excellence in Journalism Awards in Online Media Affiliated Blog. His stories of the 1960s and his transit blog on NJ.com earned earlier SPJ Excellence In Journalism awards.
---
Greetings From
Belleville, NJ
Anthony Buccino has created a kind of time machine with words and stories of growing up the 1950s, 1960s and beyond based on life and growing up in Belleville, New Jersey.
You don't have to be from New Jersey to enjoy this book, you just need an inclination to remember when chasing the mosquito man and his big blue cloud was a great thrill for kids on their bikes or running in their Keds! And who can forget the excitement on hearing the bells of the approaching ice cream truck to the neighborhood? If you remember defrosting refrigerators or the simpler things of times past, you'll enjoy Buccino's fourth collection of essays.
More than forty essays and reflections on everything from junior high school bullies to selling pretzels for Ed Strat at Belleville High School football games at Municipal Stadium. This collection includes the Excellence in Journalism award-winning Don the TV man.
You don't have to be from Belleville, New Jersey, to enjoy this book! You'll just wish you were ... after you've read it.
---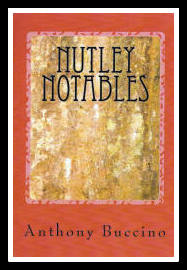 Nutley Notables
The men and women who made
a memorable impact on our hometown,

Nutley, New Jersey

By Anthony Buccino

Featured individuals run the gamut from politicians to high school coaches and athletes; from notorious personalities to beloved entertainers to the fellow in the local shop to the artists and writers who toiled long ago and today. Their images and stories document the unique contributions they've made that shaped Nutley today.

The township of Nutley, New Jersey, accumulated a wealth of celebrated and eccentric people who over-shadowed the salt-of-the-earth folks who lived here, raised their families and built the town into the place that Norman Rockwell only dreamed of illustrating for the cover of the Saturday Evening Post. Buccino tells you about more than a few of them (nearly 200!), some you may know and many you will not forget.

Order Yours Now Also on Amazon

Latest News and Updates on Book Signings
---
Rambling Round Inside and Outside at the Same Time
This Seat Taken? Notes of Hapless Commuter
---
Belleville and Nutley in the Civil War
---
---
Covers vary