Italian Americans in World War II by Peter L. Belmonte
128 Pages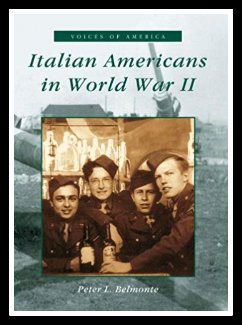 Stories untold are lost forever. And so it was with the Italian Americans who served in World War I. The time to record their experience came and went, mostly unrecorded. The recent publication of Italian Americans in World War II by Peter L. Belmonte is an attempt to prevent that fate from befalling the proud young men who served in the latter war.
Through anecdotal interviews and recollections by the servicemen themselves and photos from the front, Belmonte's well-organized tribute to Italian American servicemen in WWII is a worthy component in every Italian American's library.
We were impressed by the straightforward, accurate descriptions, particularly of the pre-war era. Some future-soldiers were heading through college, some had already dropped out of school to help support their families. The state of the nation in the Depression left little time to gripe and moan; it was enough to survive and provide for your family.
Two photos, in particular, stand out in this terrific collection of WWII era shots. In one photo, John Mangione is caught in action firing his 105mm howitzer in the Philippines, 1944. You can see the motion of the big gun as it discharges, and, John's hand on the firing cord, his mouth open to equalize the pressure on the eardrum. The other memorable photo is of Art Pivirotto in front of Navy B-24 Umbriago II.
Belmonte interviewed 50 veterans for the narrative here. That's no mean feat; consider that as recently as last year, many veterans still couldn't bring themselves to talk about the war. Another feather in Belmonte's cap is that through all the name-dropping and different branches discussed, the prose never becomes baffling. In a work this size, that can be a problem, but it doesn't happen here.
Soldiers from all branches discussed the battles and their service from Tarawa to D-Day to Dachau and back home after the war to a meal of 'veal cutlets and meatballs.' Consider the irony of paratrooper Johnny Campisi who received desert training in Needles, Calif., then was sent to the Pacific theater.
Armand Castelli told Belmonte "the food was strictly American, and at first it was hard to adapt to it, but after a week I adjusted to it, especially after being used to Italian food."
Or Sam Mastrogiacomo who delayed as long as he could telling his mother he volunteered for gunnery school. She feared so for his safety that when the news was out she said, "You're a sneak! You've always been a sneak."
A later comment by Mastrogiacomo gets to the heart of what this book should be about, if it could be about anything other than old men remembering the war. Belmonte writes: the gunner recalls that the the NCOs struggled with his long Italian name. "If we fell out for a roll call, and I'd see the sergeant begin to scratch his head and squint at the roster, I'd just shout 'Here!'"
Paratrooper Tony Pilutti, who dropped into combat near Chef-du-Pont, behind Utah Beach in Normandy on D-Day, was granted U.S. citizenship in England on July 16, 1944. He later earned a Bronze Star for combat action in Holland. If that's not enough, Belmonte notes that Pilutti 'had been briefly detained as an enemy alien before shipping overseas.'
A book called Italian Americans in World War II should have more stories like that.
Belmonte spends a few hundred words asking the veterans how they felt at that time if they would have had to fight against Italy or Italian soldiers. The responses were straightforward and summed up by Navy diver Hal Cenedella: there were no Italian Americans, French Americans, or German Americans; we were just plain Americans. There was no animosity toward anyone.
If there is a weakness in this wonderful collection of photos and tales of Italian Americans in World War II, it's that there is little here, save ethnic last names, that distinguishes the war fought by Italian Americans in World War II from the war fought by any other soldier in that war. With between 500,000 and 1.5 million Italian Americans serving in the U.S. military during WWII, it's almost hard to believe that their experiences could be any less homogenized into the horrors of war than those of any other American soldiers.
That's not to take away from their gallant contributions to winning the war. The newly settled Italian immigrant families were large and Belmonte notes at least two families with eight brothers each in service at the same time during the war. Yet how many were uncounted? This book could have only hoped to pry open a pin hole in the tin can of valiant contributions by Italian Americans in World War II. It has. Simply look at the photos of these young men who did their duty. Look at the fresh faces and remember the uncles and fathers who did not return. They too must be counted among the Italian Americans in World War II. This is the beginning of their story.
Italian Americans in World War II by Peter L. Belmonte
Book Review © 2002 by Anthony Buccino
---
Read More

Italian American Heritage
A Father's Place, An Eclectic Collection
Who is Brother, (who is) Uncle Bim?
---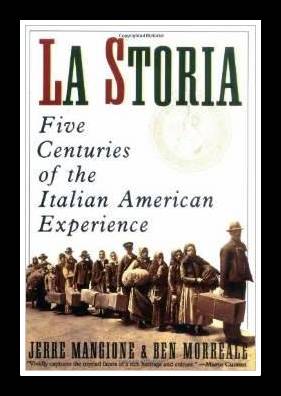 Italian Americans in World War II by Peter L. Belmonte
WW2 Letters Home From The South Pacific
La Storia: Five Centuries of the Italian American Experience by Jerre Mangione
Una Storia Segreta - Lawrence DiStasi
Finding Italian Roots by John Philip Colletta
They Came In Ships by John P. Colletta
Italian American Writers On New Jersey
Identity Lessons: Contemporary Writing About Learning to Be American
Some Kind of Wise Guy: Stories About Parents, Weddings, Modern Living, and Growing Up Italian by Bill Ervolino