I first came across Gary Formica in the early 1990s. I was walking my yellow Lab in a nearby neighborhood, and the second sign above the street sign caught my eye.
Gary P. Formica, SP4 A-KIA 10-4-70 Vietnam.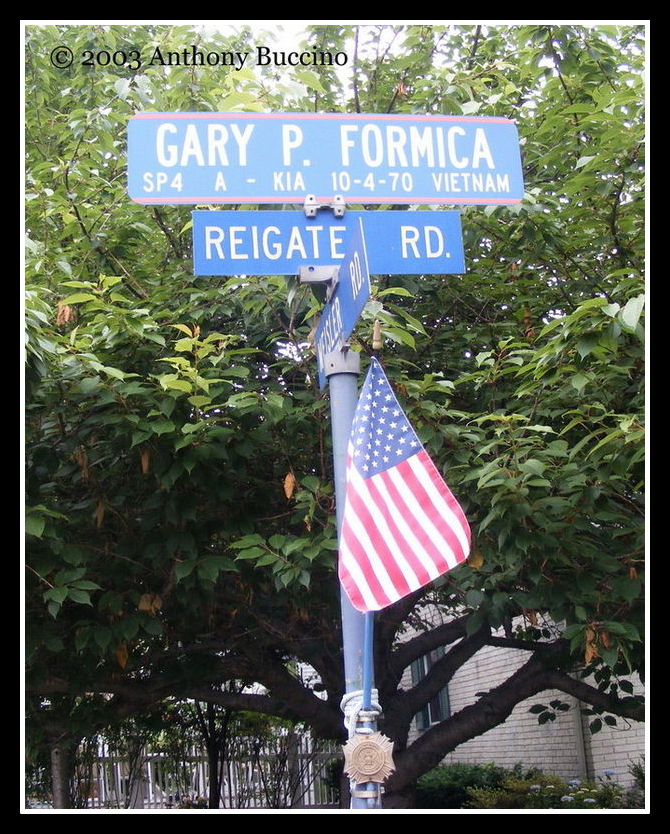 I never knew him, never even heard of him before coming across this memorial sign. Nearly 25 years on, there wasn't much thought given to a stranger who died long ago in a place far away.
And yet, I was drawn to this place, to this corner, or across the street from it where I stood long gazing at the stranger's name. My dog would realize we weren't going anywhere and settle in the grass. Did Gary live in this corner house? This house where their dog barks at strangers until it realizes we aren't here to disturb the peace.
I'd wonder if his parents lived here still. What did they think when then went outside and saw their son's name on a corner sign. Did he have brothers and sisters and their children who never met him?
As my dog dreamed of long walks, there I stood having conversations in my mind with this young man, this stranger. For all my troubles, for all my complaints about work and life and whatever else sat heavy on my mind, this one-way conversation always came to its conclusion, what would you have become, Gary Peter Formica?
According to the New Jersey Vietnam Veterans Memorial, Formica
"... entered the Army in June 1969 after he was graduated from Bloomfield College. At Bloomfield College he was vice president of Alpha Kappa Psi Fraternity. Before going into the Army he was a substitute teacher in Newark schools. He had been in Vietnam for six months and was scheduled to complete his tour of duty [in] April. He was attached to a radar unit of the First Cavalry, First Division. Formica was killed in action on October 4, 1970. His parents, his brother, Armand, and a sister, Roberta, survived him."
The educational center also shows that Raymond Fritz Jr., also of Bloomfield "served in the US Army and attained the rank of Sergeant (SGT). Fritz was killed in action on October 4, 1967." The web site says 11 other young Bloomfield men perished in Vietnam.
One night a party was going on at the house behind the sign. I nearly stopped in to ask about the soldier on the sign. So, he continued as a private friend. I knew little more about him than what that sign said. I thought that at the time this young soldier was killed thousands of miles away, I was sitting in a sophomore class whining about homework, book reports and those dreaded ropes that hung from the gym ceiling. Oh, poor me.
For 10 years I passed this street corner. That yellow Lab now replaced by a chocolate Lab. One day a woman came out of that house, and I asked her about the sign. I said I thought of him every time I walked by. Did he live here in your house? She told me he lived across the street. In fact, his parents still live there.
But I never knocked on their door. What would I say that wouldn't open old wounds?
Because of Gary P. Formica, I set out on a project to find the biographies of all the soldiers who died from my town, Nutley, and from my hometown, Belleville. We learned all we could about the 138 men from Nutley, and the 153 men from Belleville. I acknowledge Gary's influence in my tackling this project.
I spend this day remembering a stranger I never met and there follows him a throng of soldiers – 350 or more – whose names are now as familiar to me as if they were classmates. I have learned and remember their stories, too.
Now, my town is considering adding soldier's names to the street signs near where they lived. Perhaps some day someone will adopt the memory and the stories of these soldiers and will spend the anniversary of their sacrifice remembering a stranger they never met.
One day, perhaps I, or someone like me, will learn the stories of the young Bloomfield men and women and write the biographies of those who perished. Then the world will know Gary P. Formica.
---
New Jersey Vietnam Veterans' Memorial
Military history articles and books of the fallen
---
© 2014 by Anthony Buccino
First published NJ.com on Oct. 4, 2014
Links subject to change