I sit in the commander seat. The five-man crew is a loader, gunner, driver and assistant driver. Tankers are known to carry a sidearm in case of a Zippo event (lights on first strike).
---
NEW ORLEANS — I'm peering through this periscope to the outside world. Out of my view, three dozen sandbags are piled on the front of Draftee, my Sherman tank. If a German armor-piercing shell hits us, the sandbags will take some of the sizzle and thwart the damage.
Otherwise, the tip of that shell will superheat our armor, rip through this tin can, ignite our arsenal, kill our crew, and exit our backside to take out the tank behind us in formation. Our tanks are nicknamed Zippo because they light on first strike from a German shell.
We lose far too many of our number in tank-on-tank battles. Our tactics change as the war wears on.
Our main gun fires 75 mm shells with a muzzle velocity of 2,030 feet per second. That's not enough to stop most Kraut tanks — the Panzer, Tiger, or Panther — unless we are in close range and hit them in a weak spot, their side or rear.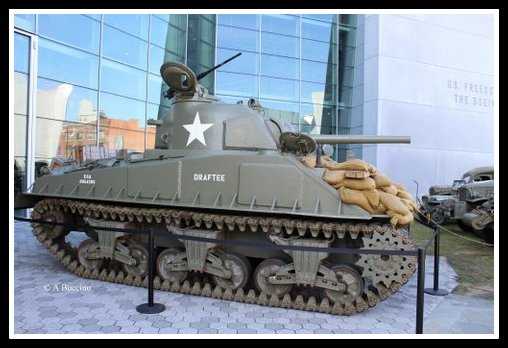 Restored and on display WWII Sherman tank, Draftee, donated by the West Bank Optimist Club at the National WWII Museum in New Orleans, La.
Without crew and ammo, Draftee weighs 66,700 lbs. Our V8 engine kicks up 500 horsepower, and has a level ground sustained speed of 26 miles per hour. We burn gasoline but don't get too far on a gallon, maybe five miles or so. Draftee is one of 1,690 M4 A3 Sherman tanks built and delivered in 1943 by Ford Motor, Highland Park, Mich.
Our infantry support tank is designed with breakthrough striking capacity to breach opposing skirmish lines. As tanks go, we're lightweights and built for speed. We can blow up most things in our way except those Kraut tanks. This baby has a 30-caliber Browning machine gun firing through a gap in the sandbags. Our top-mounted 50-caliber Browning machine gun is for cleaning up.
I sit in the commander seat. The five-man crew is a loader, gunner, driver and assistant driver. Tankers are known to carry a sidearm in case of a Zippo event (lights on first strike). These seats around me are empty save for the spirit of the men who rode this beast, the men who saved the world.
The war is more than seventy years gone and I am a civilian immersed in World War II. This Draftee smells of fresh paint and grease but not gun powder. My battle station inside this restored, drivable WWII Sherman tank — donated by the West Bank Optimist Club — is the highlight of my daylong tour at the National World War II Museum in New Orleans.
Docent Ronnie Abboud stresses the museum and artifacts are "not about things," this place, in the Louisiana Memorial Pavilion, this sacred place is about stories, the stories of the men and women who won the war and literally saved the world. Guys like my father who served at Guadalcanal in the South Pacific.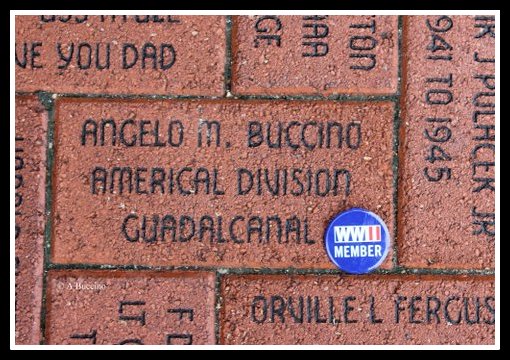 Paver purchased to honor a veteran of Guadalcanal and support the museum expansion.
Our tour began in the original D-Day Museum building at a restored Higgins Boat. In Army parlance, that's the Landing Craft Personnel (LCPV). These are the small boats that carried troops, about 30 at a clip, and equipment, from the large ships to Normandy beaches on D-Day.
New Orleans-based boat builder Andrew Higgins adapted the LCPV from the shallow-draft boats he built for use in the area marshes. His company employed about 5,000 people in town — men, women, black and white — so unusual in the South in the early 1940s — worked side-by-side in the war effort.
In 1964, Dwight D. Eisenhower told historian Stephen Ambrose: "[Andrew Higgins] is the man who won the war for us. If Higgins had not designed and built those landing craft, we never would have landed over an open beach. The whole strategy of the war would have been different."
A University of New Orleans history professor, Ambrose was a biographer of U.S. Presidents Eisenhower and Richard Nixon. Ambrose wrote several best-selling books about World War II and the Normandy invasion, including the book on which the 10-part Band of Brothers TV film series is based.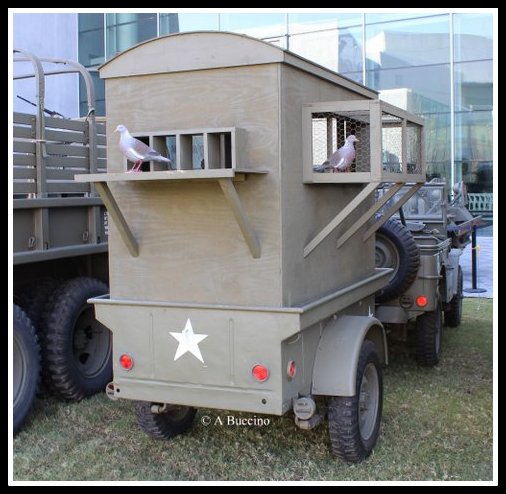 Restored WWII mobile homing pigeon carrier. Vehicles were moved outside U.S. Freedom Pavilion: The Boeing Center due to the Veterans' Day Ceremony.
Museum founder Ambrose cited Higgins' contribution to the war effort as one reason to build the D-Day Museum here. The Louisiana pavilion on Magazine Street is where the initial museum opened June 6, 2000. Ambrose died two years after its completion, but was aware of efforts to tell the full war story through added pavilions as the National World War II Museum. Congress designated it as the official WWII museum of the U.S.
In the Louisiana Memorial Pavilion, Abboud leads our small group on this special tour as we course through the Home Front and European Theater of Operations. The Fortress Europe theater seems dated now with its smallish displays of Normandy Beach, French hedgerows, uniforms worn by both Allied and Axis armies' soldiers, small arms, ammo, mortars and heavy weapons.
This display is supplanted in the new, much larger, Campaigns of Courage Pavilion: Road to Berlin, one of five buildings in the $300 million museum expansion.
In the Road to Berlin: European Theater Galleries visitors learn more details, hear more stories — including many first-hand accounts — than the initial D-Day Museum could hold. One display includes a snow-covered, splintered pine tree to represent the Battle of the Bulge and the siege of Bastogne. The second floor exhibit Road to Tokyo opened in December.
I wanted to tour the Sherman tank on display in the U.S. Freedom Pavilion: The Boeing Center. The old tank shares an atrium with a bomber — suspended from the ceiling — reclaimed and restored from its crash site in Greenland, half-tracks, trucks, a smaller tank, and the mobile homing pigeon coop.
As part of our exclusive tour, we amble up a step ladder to the tank deck and prepare to enter the commander's hatch. The steel deck throws many obstacles at our feet: air ducts, rings, and footholds the crew probably never used. We tread cautiously.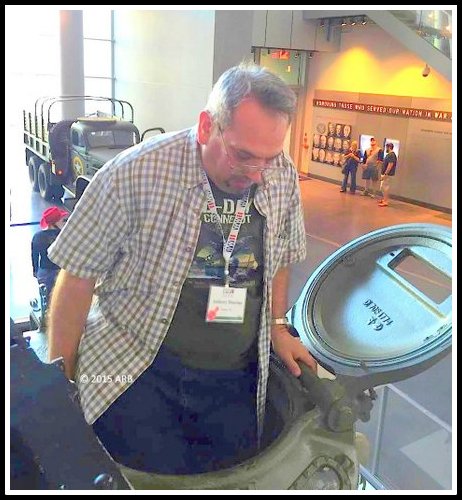 Inside U.S. Freedom Pavilion: The Boeing Center. "It sure looks a lot easier in the movies!" Photo by Tom Askins.
When it comes my turn to climb in, I look for something nearby to grab and try to raise my leg over and into the hatch. My leg doesn't want to bend. I am not a 20-year-old soldier, it tells me. My days of playing Army are long gone. But I reach down and grab the hem of my jeans and pull it up and get my foot clear of the rim, then peer in seeking a step finally alighting on the turret seat. Then I ease down the other leg. I see the gunner's seat a bit below and step down onto that.
In the few minutes I actually sit, stand, (really, as who had time to get comfortable,) inside Draftee, I imagine what the crew saw, the things they'd done, and the lives they returned to after the fighting.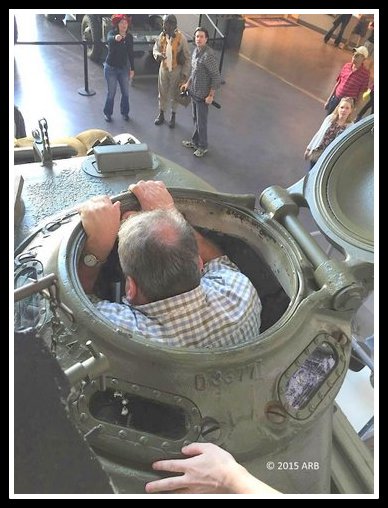 This Sherman tank is much higher when you look down from the top. See everyone amazed at the old man climbing in, or out. Photo by Tom Askins.
Had I been forty years younger I could have maneuvered inside. It seems quite possible in the films I've seen. However, once inside, all I manage is a quick look around. Pedals, levers, gear shifts, and many things curator Brandon Stephens warned me not to touch. He also warned that, yes he could help me in, but if I got stuck, we'd all be in trouble.
Here's to the men who drove these tin cans into battle and faced superior odds with grit, determination and their lives to save the free world.
Those fellows operating these beasts must have been quite short, I muse aloud. Stephens says one top tank crewman was 6-foot 2-inches and 240 pounds. Must have been all muscle! I decide to climb out as soon as I can breathe normally. A guy could get stuck in a time warp here.
---
First Published July 17, 2016 on Medium.com
Copyright © Anthony Buccino
Read more: Travels With Tonoose
---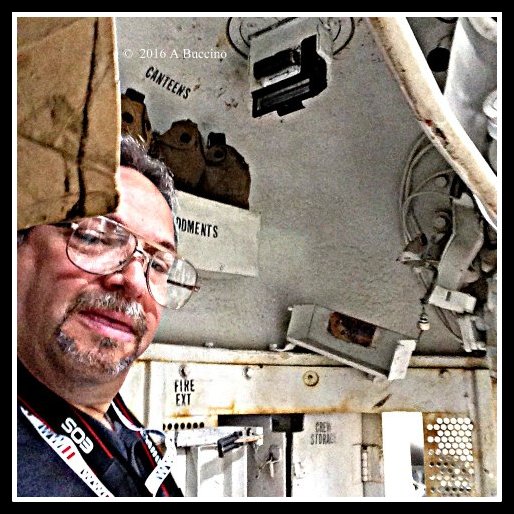 Selfie sitting on the floor inside restored WW2 Sherman Tank 'Draftee' at National WW2 Museum, New Orleans. It both is and isn't as cramped as it looks.
Behind the Lines Tour - The National WW2 Museum
New Orleans: Enjoying a Big Easy Pace of Life
Tanks for the Memories - Last Man Standing
Death Traps: The Survival of an American Armored Division in World War II by Belton Y. Cooper
World War II - Recommended Reading
---