D-DAY OHIO CONNEAUT, OHIO -- The German soldier is rolling down the hill, another is falling – dead – down the hill, the smoke is clearing, the gunfire dissipating. 'Wounded' and 'dead' are scattered along the 250 yards of beach and incline where Army Rangers and the Big Red One have taken the hill. The Wehrmacht gives up this beach, these guns, this hill representing the enormous undertaking 69 years ago on Omaha Beach in Normandy, France.
Allied re-enactors rush from Higgins boats to the sand and gunfire, then work their way past the beach obstacles to braving enemy fire and explosions. The long, flat beach has little defilade, barb wire, land mines, Teller mine-topped Belgian gates and steel beach obstacles to slow down landing forces ahead of the rock shingle below the German fortifications on the bluff. The Ohio beachhead is eerily similar to what the GIs faced landing at Omaha Beach where the landing force of 40,000 suffered 2,200 casualties, mostly in the first hour.
---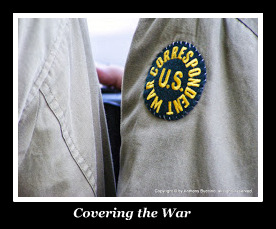 Here, the thousand or so re-enactors rise from positions as victor and vanquished, shake hands, pose for group pictures while thousands and thousands of spectators – most of them too young to remember World War II at all, applaud the living history lesson before their eyes at D-Day Conneaut at Lake Erie, Conneaut Township Park, Ohio.
The Germans had taken four years to build the concrete reinforced bunkers of the Atlantic Wall. At the end of the day on June 6, 1944, about 175,000 American, Canadian and British troops had landed on Normandy breaching enemy defenses at a cost of nearly 5,000 casualties. The day was won but the war in Europe would last nearly another year.
Re-enactors staged two other battles. The battle of the bridge at Foucarville was fought on June 5, 1944, and said to be the first battle of the invasion on French soil.
The other battle staged represented the Maquis French Resistance and U.S. paratroopers' attack at the German-held La Fiere Bridge.
---
You are there. Hear shooting, not knowing where it's coming from. All around you, echoes. Right, left, rapid fire, single shots, shouting, (bodies on pavement). Wherever you are you see a small part of the battle. Your part. What's behind you. What's playing out ahead.
And then silence.
Is it over? Is it safe to move? Voices somewhere, Some more firing. Noise. Smoke.
You see medics working on the fallen. Hear shots fired. You can feel the bullets whiz by. The noise. Will it ever end?
Small arms fire is loud. Men shouting. A lull. More shooting. Battle noise. Silence. Voices murmur. This battle over, you return to the safety of the woods in present-day Conneaut.
---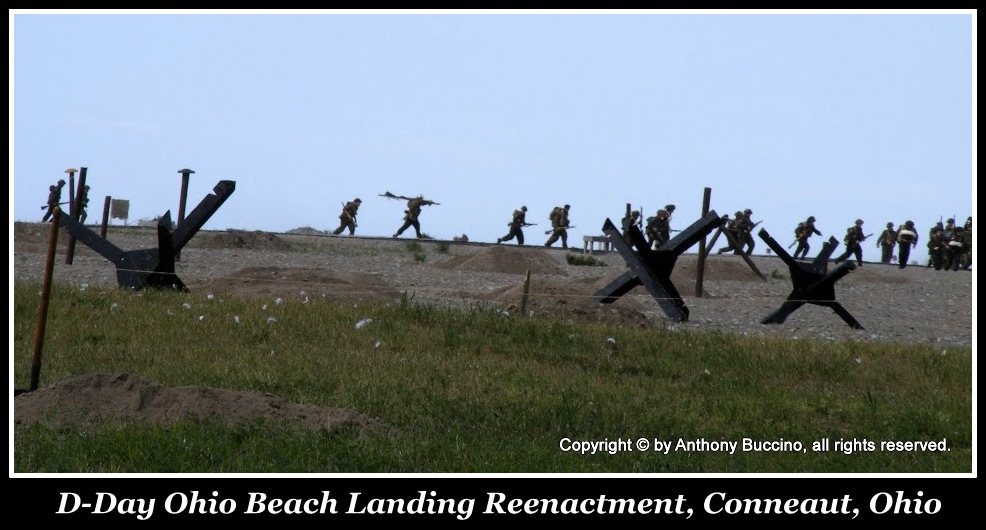 ---
Thousands of spectators lined steep hills alongside the cordoned battlefield for each of these intense battles. The gunfire was loud and the battle action long and inspiring, proving the discipline and endurance of our armed forces then, and these authentically outfitted re-enactors now.
D-Day Conneaut, held Aug. 16 and 17, was not all shoot-em-up but open access to both an Allied camp, the French Resistance camp and the Axis camp representing Occupied France.
Veterans of D-Day, World War II and other wars were well represented at the two-day event.
Conneaut native Sgt. Dan McBride served in the 502 PIR 101st Screaming Eagles and parachuted into Normandy on D-Day. T/Sgt. Marion Gray, of Columbus, served in the 29th Div. 116th Inf. Reg. Co. A, and landed on Dog Green at Omaha Beach. Armand Colucci, of Conneaut, served on destroyer escort USS Howard F. Clark. Lenel Moore, of Ashtabula, served in the Marine Corps in the South Pacific.
Other veterans sharing their stories on a large and small level included captured flier Lt. Warren Thomson who was held by the Germans at Buchenwald concentration camp; Clinton Longenecker of Toledo; S/Sgt. Don W. Dickey of Negley; Don W. Dichy who served on a troop carrier. Richard Hamleton of Willloughby who served in the 13th Airborne. Ed Barkeiewicz, of Parma who served in the 5th Rangers, his brother was killed in action at Iwo Jima. Born and raised in Erie, Pa., Arden Earll served in a heavy weapons, mortar unit. T/Sgt George Diller served in the 26th Infantry.
The men and women re-enactors pay their own way to the event, spend their own money on authentic clothing and equipment from 1940s-era dresses for the women to fully detailed uniforms for the men -- serving in armies representing the U.S. Army, Rangers, paratroopers, Britain, Canada and, of course, German soldiers from every cut of cloth.
Asked why he chose to portray a German soldier, a re-enactor said, "The good guys need somebody to shoot."
D-Day Conneaut brings together the die-hard re-enactors (most will sleep in their bivouac during the event) with vendors of nearly everything a collector needs from belt buckles and canteens to steel-pot helmets (for various armies) and a replica side-car motorcycle.
Paul, Eric, Steve and Dan Desgroseillier brought their 'deuce and a half' – a two-and one-half ton weight class truck -- from Fitchburg, Mass. Kenny and Anna Adams brought their DUKW – an amphibious truck – to help with the landings.
Ohio residents Daniel and Ralph Demshar and Rob Applegate could be seen tooling around in a Kubelwagen, a German 'bucket car' designed by Porsche and built by Volkswagen.
These nine GIs trooped into Conneaut. Doug Fesko of Canton, Mich.; Brian Kegel of Pittsburgh; Josh Kerner of Norfolk, Va. ; Mathew James of Va. Beach, Va.; Ian Pasko of Reading, Pa.; Brandon Tressler, of Allentown, Pa.; Bill Long of Louisville, Ky.; Brian and Jim Cassler of Canton, Ohio.
What would the war rooms and home front be without women represented? Conneaut's own Rosemarie Noce turned out as Rosie the Riveter. Portraying a WAC, Connie Nieves of Grafton, Ohio, promoted the Liberty Aviation Museum and its B-25 Georgie's Gal. Amy Rutkowski of Aurora, Ohio, along with Lauren and Melissa Solemani of Somerset, Mass., echoed the Red Cross. And Rachel Brown of Albion, Pa., was all smiles in her 1940s styles.
Mike Blazejack, of Sandwich, Ill., was outfitted as a Royal Airforce pilot, Bruce Stevenson of Toronto, as a member of the Royal Canadian Navy and Joel Moffet of Toronto wore the uniform of the Queen's Own Rifles.
As a downed Luftwaffe pilot, Harry Pearson of Columbus, Ohio, was 'captured' by the French Resistance. Meanwhile, back on the bluff, Greg McKinney of Warren, Pa.; Eric and Mark Pacholski of Toledo; Andy Grimes of Temperance, Mich.; Tim Jones of Chester, Ill.; Tim Schulte of St. Paul, Mo.; and Darryl Langenderfer of Metamora, Ohio, were filling sandbags and digging deeper foxholes.
D-Day Ohio event organizers expect next year's 15th annual D-Day Conneaut re-enactment of the Normandy Invasion on Aug. 22 and 23, 2014, to draw the largest turnout yet. The event will mark the 70th anniversary of the D-Day assault. In the meantime, the group acquired the First Hungarian Reformed Church and will create a local museum that will be home to World War II and 1940s artifacts.
The National D-Day Museum in New Orleans, home of the Higgins boats, has been expanded into the World War II Museum. The National D-Day Memorial in Bedford, Va., has special events planned for June 6 to June 8, 2014. The National Warplane Museum in Geneseo, N.Y., is raising funds to return its C 47 Whiskey 7 to France. The plane participated in the 82nd Airborne Division drop near St. Mere Eglise in Normandy.
The United States saw more than 400,000 military deaths in World War II. The thousands of casualties the Allied forces suffered by storming the Normandy beaches at last provided a foothold to drive the Axis forces to Berlin and oblivion. If not for the training, planning and fortitude of those GIs, naval support and paratrooper efforts to do what must be done, the world as we know it would be much different today. It is through the living history of these re-enactments that we will never forget the sacrifices of the men and women who paid for our freedom.
At night, head on the pillow, the echoes of explosions, gun fire, images of smoke, falling and fallen soldiers, with the rumble of war clouding your mind as you drift off into a safe night's sleep, remember well this lesson.
© 2013 By Anthony Buccino
First published Ashtabula Living Magazine, 2013
Slideshow of event photos
Special thanks to D-Day Ohio organizers for allowing additional access for this magazine piece.
---
The annual D-Day Conneaut brings together the die-hard re-enactors (most will sleep in their bivouac during the event) with vendors of nearly everything a collector needs from belt buckles and canteens to steel-pot helmets (for various armies) and a replica side-car motorcycle.
Anthony Buccino joined nearly 20,000 re-enactors and visitors on Aug. 16 and Aug. 17, 2013, on the shore of Lake Erie at Conneaut Township Park in Conneaut, Ohio.
Buccino's books include Belleville Sons Honor Roll and Nutley Sons Honor Roll which included his research of 70 local soldiers and seamen killed on D-Day and the invasion of Fortress Europe.
---
Read more: Travels With Tonoose
Read more: D-Day by Anthony Buccino
---
---
Photo Galleries, Ohio
Photo Gallery: The Cove, Geneva on the Lake
Photo Gallery: Eddie's Grill, Geneva on the Lake
---
Lake Effect: Coming of Age in Ashtabula, Ohio by Bernadette Colicchio Dawson, Ted Dieffenbacher, and Dennis Steighner
ASHTABULA COUNTY, OHIO A Field Guide to the historical natural and curious treasures of Ohio's largest county
Hidden History of Ashtabula County by Carl E. Feather
Ashtabula Harbor, Ohio – A History of the World's Greatest Iron Ore Receiving Port
by Carl E. Feather
Ashtabula - Images of America by David Borsvold and Ashtabula Great Lakes Marine Coast Guard Memorial Museum
Ashtabula: People and Places - Images of America by Evelyn Schaeffer and Richard E. Stoner
---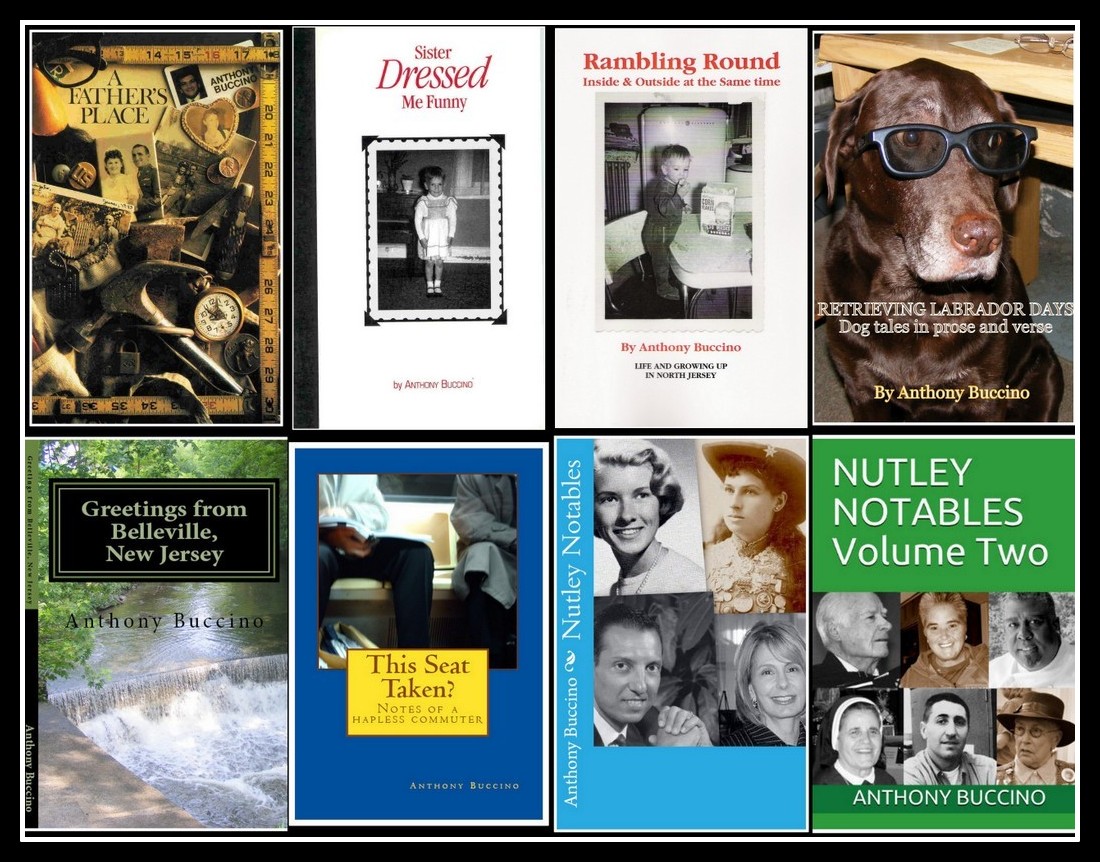 ---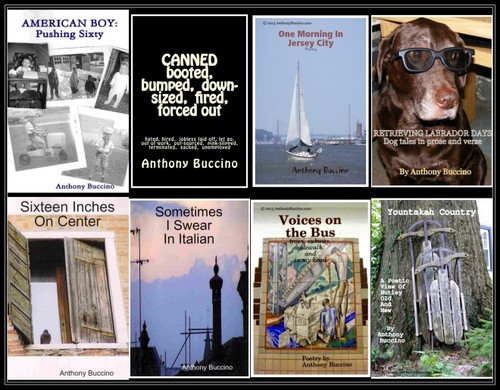 ---

---

---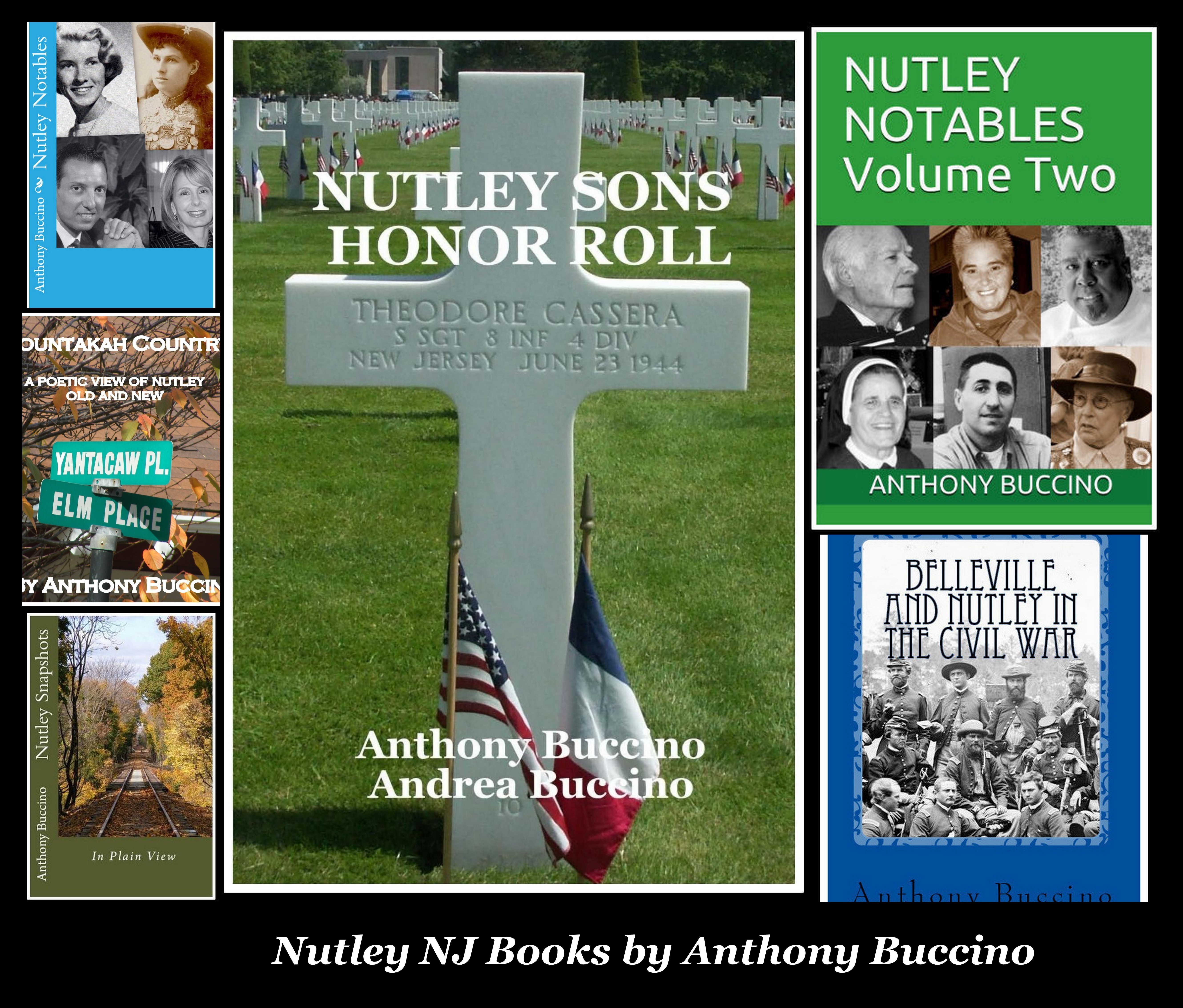 ---