Anthony Buccino researched and met local veterans of the D-Day invasion. He has written about survivors and the fallen from Belleville and Nutley, N.J. Between the two small northern New Jersey towns, at least 70 young men perished in the Normandy invasion of Fortress Europe and V-E Day.
Nutley lost 92 sons who died in WWII. More than 110 Belleville sons died in WWII.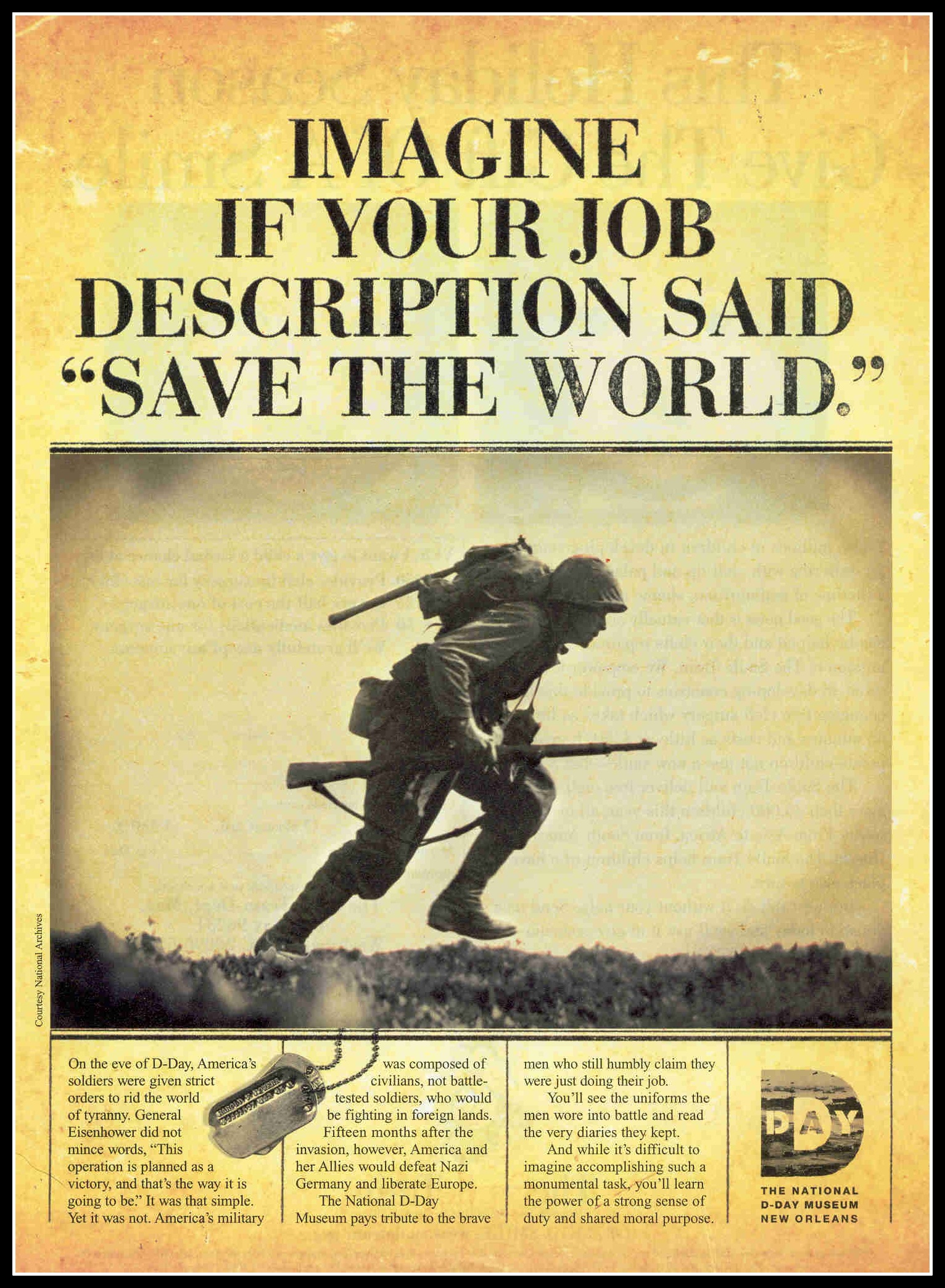 In August 2013, Buccino spent a few days among the D-Day landing re-enactors at D-Day Ohio in Conneaut, Ohio. He has spent many days touring The National D-Day Museum/National WWII Museum in New Orleans.
---
Falduti Parachutes into Normandy on D-Day
Nelson Rummel Recalls D-Day at Omaha Beach
Andriola Arrives in Normandy on D+3
Brothers Tell of Cherbourg Battle
Infantryman Describes Fighting In Normandy
Normandy Invasion - Belleville, N.J.
Normandy Invasion - Nutley, N.J.
Veterans are different from you and me
Pacific Theater - Remembering our sons who perished
---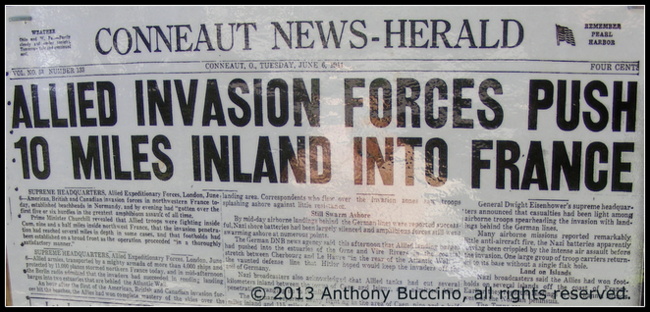 ---
The Longest Day for a Birthday by Anthony Buccino
---

Buccino's War Biography Books
Belleville and Nutley in the Civil War
The Nutley Sons and Belleville Sons honor roll projects are serious writing about a serious subject. With his daughter Andrea, two paperbacks were published based on the research about the men from Nutley, N.J., and Belleville, N.J., who died in service to their country. In 2011, he published Belleville and Nutley in the Civil War, a Brief History.
In May 2005, a new memorial to nine men who died in peacetime was dedicated in Nutley - based on the research in Nutley Sons Honor Roll.
In November 2005, more than 150 names were added to the Belleville memorial on Union Avenue, after having the blank slate for 50 years awaiting the list of names which was based on the research in Belleville Sons Honor Roll.
In 2006, six street names in a new residential development City Homes at Essex Park in Belleville, N.J., were renamed to honor veterans and four of the Belleville heroes who died while in service.
Buccino was named the recipient of the UNICO National 2005 Grand Order Filippo Mazzei William Paca Americanism Award.
---
D-Day Ohio - 2013 D-Day Conneaut Event Photos D-Day Ohio Gallery
National WW2 Museum, New Orleans, La.
National D-Day Memorial in Bedford, Va.
---
Additional Reading
Americans At War by Stephen E. Ambrose
Band of Brothers by Stephen E. Ambrose
Citizen Soldiers by Stephen E. Ambrose
D-DAY June 6, 1944: The Climactic Battle of World War II by Stephen E. Ambrose
Pegasus Bridge by Stephen E. Ambrose
The Wild Blue by Stephen E. Ambrose
The D-Day Experience: From The Invasion to the Liberation of Paris - by Richard Holmes
The Bedford Boys - One American Town's Ultimate D-Day Sacrifice - Alex Kershaw
The Dead and Those About to Die: D-Day: The Big Red One at Omaha Beach by John C. McManus
The Longest Day: The Classic Epic of D-Day by Cornelius Ryan
The Longest Day – by Cornelius Ryan – 70th Anniversary Edition
D-Day Illustrated Edition: June 6, 1944: The Climactic Battle of World War II by Stephen E. Ambrose
D-Day: June 6, 1944: The Battle for the Normandy Beaches by Stephen E. Ambrose
A Bridge Too Far: The Classic History of the Greatest Battle of World War II by Cornelius Ryan
The Americans on D-Day: A Photographic History of the Normandy Invasion by Martin K. A. Morgan
The D-Day Assault: A 70th Anniversary Guide to the Normandy Landings by Stephen T. Powers and Kevin Dennehy
Last Stop Before Destiny: The 101st Airborne Division in England 1943/44 by Mattew Pellett
D-Day Remembered: From the Invasion to the Liberation of Paris
LIFE D-Day: Remembering the Battle that Won the War - 70 Years Later
The Normandy Battlefields: D-Day and the Bridgehead by Leo Marriott and Simon Forty
A Long Way from Home: The Memoir of John Cipolla, 101st Airborne Division, 1942-1945 by Matt Fox
Fighting Fox Company: The Battling Flank of the Band of Brothers by Bill Brown and Terry Poyser
The Big Red One: America's Legendary 1st Infantry Division from World War I to Desert Storm
Ernie Pyle's War - America's Eyewitness to World War II - by James Tobin
Here is Your War by Ernie Pyle
Bill Mauldin's Army - Bill Mauldin's Greatest World War II Cartoons
Saving Private Ryan - by Max Allan Collins
Windtalkers - Max Allan Collins
The Thin Red Line by James Jones
Nightmare on IWO - Patrick F. Caruso
Marine Combat Correspondent World War II in the Pacific by Samuel E. Stavinsky
Before Their Time by Robert Kotlowitz
Another River, Another Town by John P. Irwin
The Souvenir by Louise Steinman
There'll Come A Day - Jane Hagedorn
Letters Home 1944-1945, Women Airforce Service Pilots - Bernice 'Bee' Falk Haydu
What They Didn't Teach You About World War II by Mike Wright
Ghost Soldiers by Hampton Sides
Snoopers by Stephen M. Perrone
Reporting World War II - American Journalism 1938 - 1946
World War II on the Air - Mark Bernstein & Alex Lubertozzi
The Boys From New Jersey - Tom Kindre
'The Good War' An Oral History of WWII - Studs Terkel
Shep's Army: Bummers, Blisters and Boondoggles By Jean Shepherd, Eugene B. Bergmann (Editor)