---
Holy Family School, Nutley, N.J.


Two views, a morning class and an afternoon class.
Kindergarten Thumbnail
First Communion

Graduation thumbnail.
Click on thumbnails to see full size photo.
Use your browser back button to return here.

Graduating Class of '68
---
Buccino's Catholic school poem published in Paterson Literary Review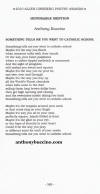 Anthony Buccino's poem "Something Tells Me You Went To Catholic School" was awarded Honorable Mention in the 2010 ALLEN GINSBERG POETRY AWARDS, and appears in the Paterson Literary Review, Issue 40, 2012-2013, available from The Poetry Center at Passaic County Community College. Short version.
High School Reunion Trepidation
Those last weeks of high school seemed nothing more than a blur
of doing time to get the opportunity to get on with life.
It was the sky-high toss of that mortar board
that signaled the beginning of real life.
Class Reunion: Catharsis, Closure or Both
I never had much love for school. I was ready to drop out
in second grade but somehow hung in
so I might enjoy going to high school class reunions.
---
Sister Dressed Me Funny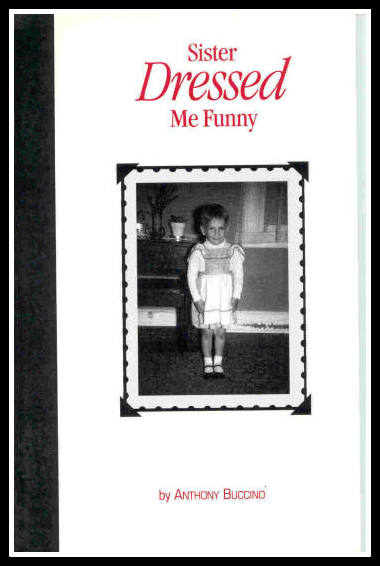 By Anthony Buccino
Tales about, of all things, a naked statue and the catholic school tie, being strip-searched by nuns, Italian American family roots, and that dress his sister made him wear.
Essays
Note: Book covers, content and price vary by edition
---
Anthony Buccino
---
---
New Jersey author Anthony Buccino's stories of the 1960s, transit coverage and other writings earned four Society of Professional Journalists Excellence in Journalism awards.
Permissions & other snail mail:
PO Box 110252 Nutley NJ 07110
---
---
---
Support the author, buy a Buccino book:
---
Dr. Andrea Buccino
6 Pompton Avenue
Cedar Grove, N.J.
Certified sports chiropractor
---
Greetings From Belleville, New Jersey - collected writings
Belleville native Anthony Buccino collected your most-requested writings about life and growing up in Belleville, New Jersey. Greetings From Belleville New Jersey, Collected writings is Buccino's first wholly dedicated to his writings about Belleville.
---