While working on the Jersey City waterfront for ten years, nearly every lunch hour became a photo walk. I had sixty minutes to wander sidewalks among the rising skyscrapers, parks and changing neighborhoods.
Sometimes I'd stroll the under-construction Riverwalk snapping shots of ferries sliding across the Hudson River, abandoned pilings like green toothpicks where mighty piers had been, and shoot the seagulls in their scrim for bread and crackers.
Those casual walks resulted in thousands, literally thousands, of photos of Jersey City. Without intending, I created a photo log of the demise and rebirth of J. Owen Grundy Park, a pier that juts into the Hudson River parallel to the Hyatt hotel.
Only three times was I scooted away from taking photos of buildings. At the Goldman Sachs building, I walked across the street and took virtually the same skyscraper shot.
At another, a maître d' shooed me away from taking a photo of his day's specials placard. Really? These prices are top secret, or what?
The third shot was across the river on 'free ferry across the river day' when some burly mall cop objected to me taking a picture of people six stories up taking a picture of me and the crowd below.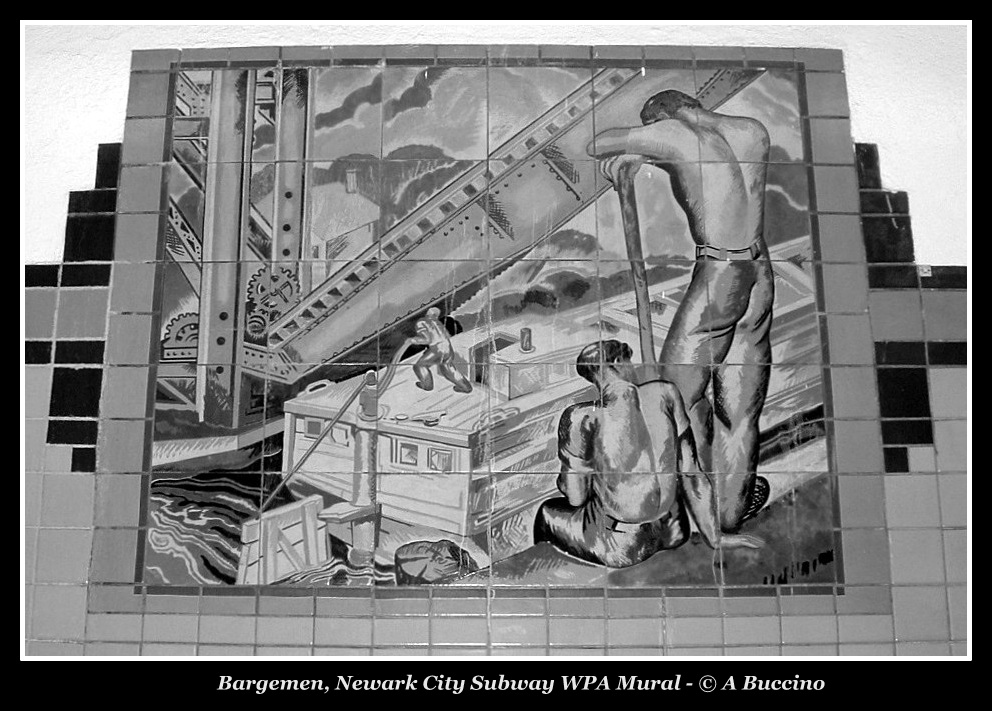 Mark Cranston, a photographer I knew through Facebook said he was meeting some friends in Newark to visit their former catholic school, would I be interested in tagging along. We met near the war memorial east of Penn Station then hopped on the NJ Transit Light Rail for a tour of the WPA era tile murals at the underground stations.
As a daily commuter along the line, I shared what I knew of the subway's history, the murals and what to expect. The murals took on a new life in person and up close. We disembarked at each stop and took our best shots until the next car came along.
At the far end of our tour, and the hour-limit of our tickets, we reached the end of the line at Grove Street in Bloomfield. In addition to the colorful jazz sculpture, off in the distance we saw in a terminal graveyard a few classic Presidential subway cars that served the line for 60 years. We snapped away at history in rust.
For the two years I worked at News Corp, my daily walk from Port Authority Bus Terminal to 47th and sixth avenues provided an unending opportunity of photo ops. Aside from the various ways to cover that 15-minute walk, every time through there was something new to see and shoot with my camera. Yes, there's that photo of the low clouds swallowing the Empire State Building and the obligatory NYC police horses posing with tourists. The city has its own energy that sucks in a photographer who can't help but want to shoot everything!
Meanwhile, I had taken up walking. Walking with a camera through my Nutley neighborhood and across town, through parks and back streets I'd never traveled, shooting places and things that caught my eye. Daily photo-walks, alone.
One day, not even near a holiday, I photographed more than sixty U.S. flags on houses during a walk. Another time I sought out lawn statues of any kind. I discovered not only hidden parts of town but developed a keener eye of what I wanted to see in my photos.
The largest photo walk I joined celebrated the 75th anniversary of Unique Photo when they hired two buses to carry troops of photographers and our equipment to Liberty State Park where there were models, acrobats, flame-swallowers, the Freedom Tower and other added delights to photograph. I'll bet not one photographer missed an opportunity to shoot lower Manhattan across the water as the sun set behind us. It was a beautiful June day. I think I saw Kodak film makers crying in the gutter. (Just kidding!)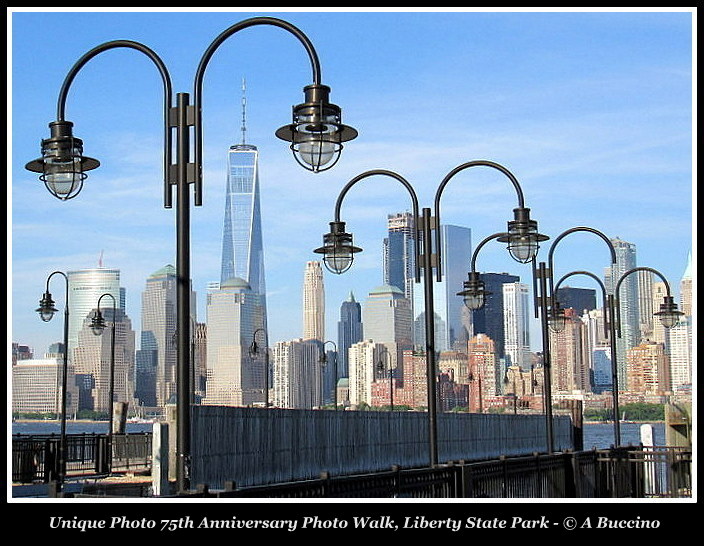 This year on January 1, 2019, Essex Photo Club held a photo walk at the Great Falls in Paterson. We shot all angles – except from a barrel – of this national treasure less than twenty minutes from our homes. While I'd visited this place nearly thirty years ago, and always intended to return, especially since I've tried my hand at photography, it was a group photo walk that brought me back.
Now we are looking forward to more photo walks, perhaps a castle, perhaps a blooming garden, or a lakeside trail to a mountaintop or along a sandy shore. We're always up to exposure to new places.
---
Buccino discusses Nutley Snapshots
Anthony Buccino talked about his recent book, "Nutley Snapshots in Plain View" on at the Nutley Library via Zoom during Library Card Signup Month! In case you missed it, here's the YouTube link
---
Nutley Walk & Talk with author, historian, Anthony Buccino. Learn esoteric Nutley lore and view the beautiful local parks on a three-mile walk. A three-mile walk!
Walk or bike through Nutley parks and learn a bit of history, too, by Anthony Buccino. The author's Walk & Talk touched on many points of interest in three Nutley Parks. Here we add some points not covered in the brief walking tour along the Third River
---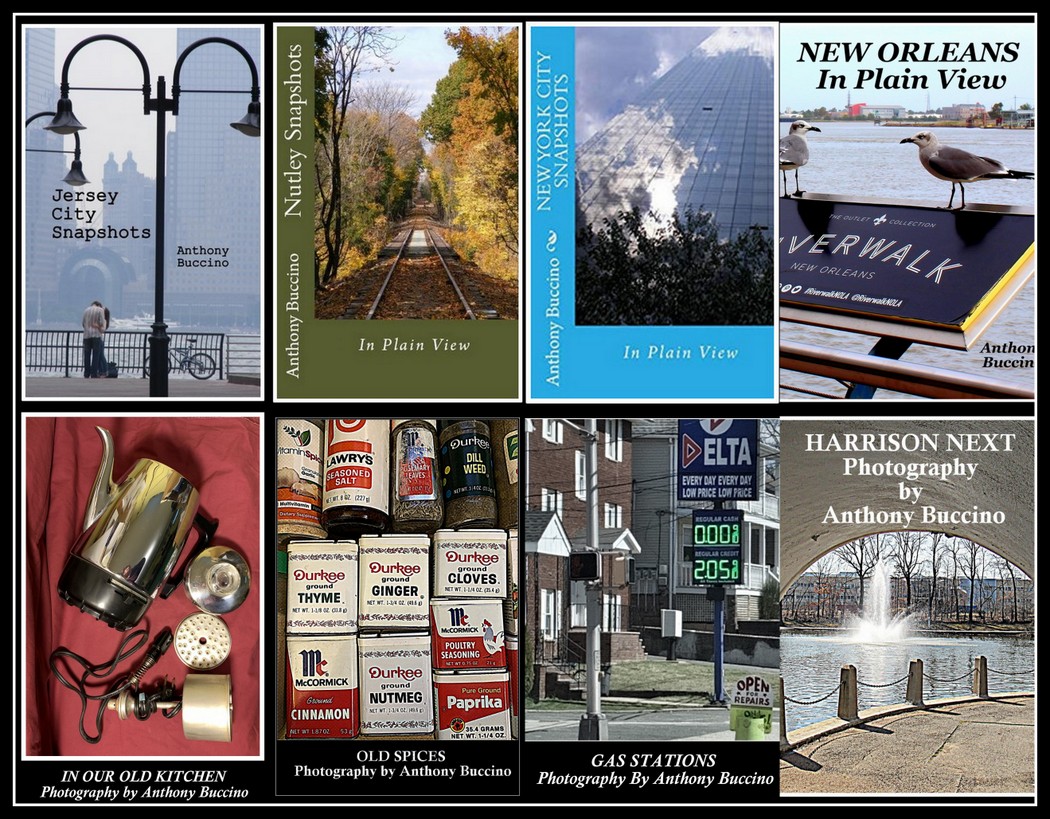 Buccino Photo Collections of NOLA, NYC, Nutley, Jersey City